School FAQs
Q: What training does Omni require of its guides?
A: Guides at Omni Montessori School are highly-trained professionals, with average teaching experience of more than 10 years. All head guides hold college degrees as well as Montessori training that is accredited by MACTE (Montessori Accreditation Council for Teacher Education). MACTE accredited training centers include both Association Montessori Internationale (AMI) and the American Montessori Society (AMS) trainings. Each MACTE training is rigorous with standards set according to Dr. Montessori's design.
Q: What is the importance of an AMI certification?
A: The word "Montessori" is not trademarked, and can be used by any school. Parents must conduct careful research and observe a classroom in operation in order to choose an authentic Montessori school for their child. There are several Montessori organizations to which schools can belong. The two major bodies operating in the United States are the Association Montessori Internationale (AMI) and the American Montessori Society (AMS). Parents considering placing a child in a Montessori school should inquire about the school's affiliation(s).
Q: How much homework can I expect my child to have, and how often do they take tests?
A: A reasonable amount of homework is given, mostly in the Upper Elementary and Adolescent programs. Homework is often project-based rather than worksheet driven. Traditional testing is a minor part of the Montessori experience. Students work toward mastery of a skill or concept through more hands-on approaches. Guides monitor the individual learning of each student and report to parents through progress reports and parent-guide conferences.
Q: At what age do children begin attending Omni Montessori School?
A. Ideally, children begin at age 3 in Omni Montessori School's Primary and continue through the Adolescent Program. Each classroom at Omni Montessori School is a multi-age community: Primary (ages 3-6), Lower Elementary (ages 6-9/grades 1-3 ), Upper Elementary (ages 9-12/grades 4-6), and Adolescent (ages 12-15/grades 7-9). For example, a child will enter a Primary classroom at 3 years of age and remain in that classroom until they transition to Lower Elementary (ages 6-9/grades 1-3).
Q: Does Omni Montessori School follow Common Core State Standards at the Elementary level?
A: A representative Montessori elementary curriculum was mapped against the Common Core State Standards and AMI-accredited schools exceed the expectations of the Common Core State Standards. Review mappings of representative AMI curricula in math and geometry and language to the Common Core State Standards on the AMI/USA website.
Q: Does Montessori education continue after the Elementary level?
A: Omni Montessori School has an Adolescent Program for students ages 12-15 (grades 7-9). Omni middle school students receive a rigorous grounding in language, math, science, the arts and humanities, and in the completion of adult work known as the "occupations" curriculum. Classroom work is integrated with field study, interaction with visiting experts, and work on and off the farm. All parents are encouraged to tour Omni's Waxhaw Campus regardless of your child's age.
Q: Where do Omni Montessori School graduates got to continue their education?
A: Omni's 9th year graduates transition easily to local public or private high schools — 40% choose private schools and 60% choose public schools. High schools our graduates have attended include: Ardrey Kell High School, British International School, Charlotte Catholic, Charlotte Country Day School, Cuthbertson High School, The Fletcher School, Grace Academy, Marvin Ridge High School, Northwest School of the Arts, Providence Day School, Providence High School, South Mecklenburg High School.
Omni alumni have graduated from local public or private high schools and have been accepted at their top choice colleges and universities. Schools in which our alumni have enrolled include: Bentley College, College of Charleston, Elon College, Hampshire College, Kalamazoo College, NC State University, Savannah College of Art and Design, Southern Methodist University, Tulane University, University of North Carolina (Chapel Hill, Charlotte, Wilmington), University of Colorado (Boulder), University of Miami, University of South Carolina, University of Southern California, Western Carolina University.
Q: Is the Omni Montessori School community diverse?
A: Omni Montessori School has long been dedicated to seeking and celebrating diversity. The Omni Diversity Endowment was established in 2015 to provide Omni Montessori School with resources to improve diversity within the school community. In the spirit of continuous improvement, in 2018-2019 the Omni Montessori School community participated in the National Association of Independent Schools (NAIS) Assessment of Inclusivity and Multiculturalism (AIM). Overall, AIM results showed that Omni is a multicultural and welcoming community.
Omni families and staff hail from all over the globe. Countries of origin have included Austria, Australia, Brazil, Canada, China, Colombia, Costa Rica, Dominican Republic, Ecuador, England, Germany, Guatemala, Honduras, India, Lebanon, Mexico, Nicaragua, Russia, Scotland, South Africa, Venezuela and Vietnam. The Montessori method of education naturally encourages students to examine similarities and differences of humans around the world and to build connections and community.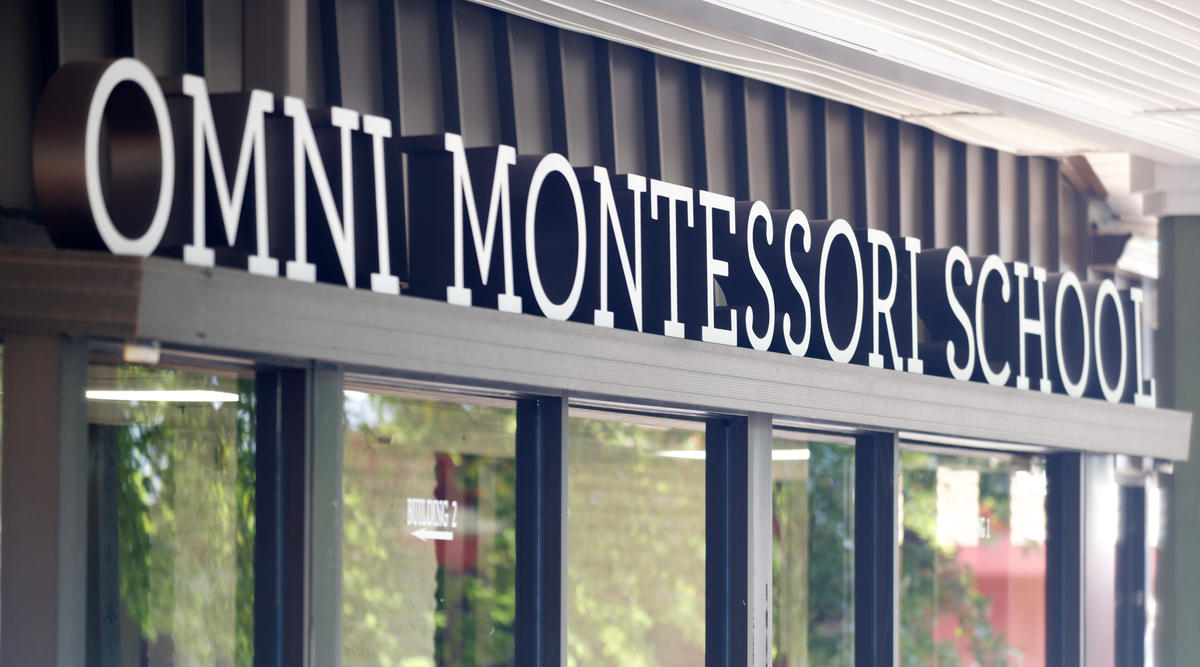 To ensure Omni Montessori School offers authentic Montessori education, the school is a member of the two major Montessori organizations operating in the United States: Association Montessori Internationale (AMI) and American Montessori Society (AMS).
To ensure the school follows the best private school practices, Omni Montessori School is recognized by the Southern Association of Independent School (SAIS) and the Southern Association of Colleges and Schools (SACS), and is a member of the North Carolina Association of Independent Schools (NCAIS).